by Lauren Fitch
Last time I left you with some food for thought on champ cards I found to be pretty close to playable in Second Edition. In this article I delve into what I think might be some of the hardest cards to scale to 2.0 in the sense that many of them deal with defunct (perhaps, maybe hopefully, returning) mechanics and ridiculous power levels.
A Pinch of Powder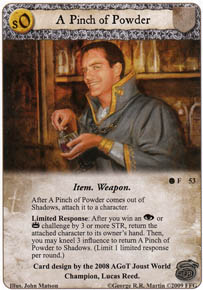 A Pinch of Powder used the Shadows mechanic, as did another of our champ cards needing major revisions, Meera Reed. Quick primer: players could play a card with the shadows crest facedown into shadows by paying two gold during marshaling; that player could then take a card out of shadows by paying the remainder of its gold cost (which for A Pinch of Powder was 0) once at the beginning of each phase. The shadows mechanic required skill to play well, especially if a player had multiple cards in shadows and was bouncing cards in and out, but it offered advantages by placing cards in an area where they could not be discarded during intrigue claim or killed by Valar Morghulis. FFG has not stated whether or not Shadows will return as a mechanic, although the recent announcement of a similar mechanic for Conquest makes me hopeful that it will!
Now, back to A Pinch of Powder. When this card was taken out of shadows, it was attached to a character (typically an opponent's character). Then, if APoP's controller won an intrigue or power challenge by 3 or more STR, they could choose to return the attached character to its owner's hand and pay 3 influence (a defunct, alternative economy) to return APoP to shadows. Let's scale APoP assuming that shadows will not come back. Although the shadows mechanic affords this card some protection from intrigue claim, it's not really necessary for the card's effect. I'd keep APoP a 2-cost attachment with ambush (3) and the text, "Terminal. After you win an intrigue or power challenge by 5 or more STR, kneel your faction card to return the attached character to its owner's hand. Then, you may pay 2 gold to return A Pinch of Powder to your hand." Ambush allows the card to still be attached to an opponent's character as a surprise during the challenges phase, and the text keeps the return-to-hand effect expensive, as it was during First Edition. When you consider big effects in Second Edition, this card seems reasonable, since returning any character to hand is a big tempo hit.
Knights of the Hollow Hill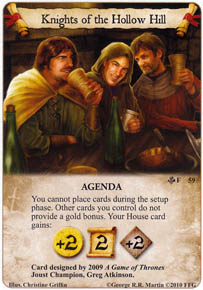 The Knights of the Hollow Hill agenda offered its controller +2 gold, +2 initiative, and +2 influence in exchange for no setup. That's right, no setup! This agenda led to a different type of deckbuilding where the typical reliance on low-cost characters and locations was abandoned in favor of high impact characters and events. When the agenda returns, I'd like to see the no setup restriction maintained, since that disadvantage was what led to the alternative deck structures. The extra gold and initiative are good, but we'd need something to replace influence, which was generally used to pay for events or other triggered effects. One possibility is +3 gold, +2 initiative, +1 reserve. This stat line would provide an extra gold over what the original agenda provided in order to help pay for events, and the extra reserve would help decks that want to have a lot of events in hand. Another possibility would be wordier but could give +2 gold, +2 initiative, and +2 (additional) gold when the challenges phase begins. I think this game text would align closely with the original agenda. Given how good Tyrion Lannister has been in Second Edition, KotHH would likely be a powerful agenda for any deck that wants to run a lot of events. A third possibility would be +3 gold, +2 initiative, +1 card during the draw phase. Without a concomitant increase in reserve, the KotHH player would not be able to hoard cards as one might in First Edition (no hand limit) and could get hit hard by reserve the first turn, depending on what plot he or she played. Whatever is chosen, this agenda will require a lot of playtesting to find a good balance between the agenda's effects and its downside. I don't expect it to be released for some time, as a competitive KotHH deck probably needs more in-house events than we currently have available.
Meera Reed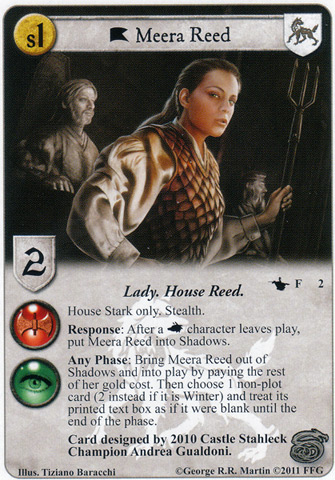 Oh, Meera. Her ability was so convoluted it spawned an entire Quill and Tankard Regulars article just for her. She single-handedly elevated Stark Winter decks to new opponent-crushing heights. Even after being errata'ed to a shadow of her former self, Stark players still chose her for their restricted card 54.3% of the time. Her power level came from her repeatability as well as her invulnerability. Returning her to Shadows meant she was difficult to kill, as she was often not on the board during plot phase. Clearly, Meera will need some revisions before she can be released in Second Edition.
Let's make Meera Reed a 3-cost, unique, loyal Stark character, with military and intrigue icons and STR 3, with Stealth, and the text, "Ambush (4). Reaction: After Meera Reed enters play using Ambush, if any player has a Winter plot revealed, choose 1 non-plot card and treat its printed text box as if it were blank until the end of the phase. Reaction: After a Stark character leaves play, return Meera Reed to hand."
Meera Reed's ability will be useful, but even if there are no Winter plots revealed, using Ambush to put a character with stealth on the board could change the outcome of a challenges phase significantly. Stark currently has many ways to remove their own characters from the board, so between sacrifice and Grey Wind, not to mention military claim, Meera could easily jump back to hand each round if desired. I made the Ambush cost much higher than her Shadows cost was in First Edition, because at only 1 gold she was frequently used more than once per round, which became oppressive.
Coldhands

Coldhands was the bane of many Voltron-deck-wielding Shagga players in First Edition, especially since attachments were discarded rather than returned to hand. After reviewing Coldhands more carefully, I don't think Coldhands' mechanics need to be updated, only his cost and target range. I'd make Coldhands 4 cost, 4 STR. and I'd restrict his ability to cost 5 or lower. His previous ability was only limited to non-Army characters, which were typically the most expensive characters in First Edition. However, in Second Edition, we now have many unique, high-cost characters, and the armies are often lower cost. Therefore, changing his ability to cost 5 or lower would allow protection for the biggest characters while still targeting many of the rest.
Northern Patriarch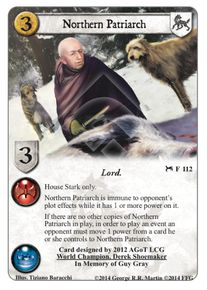 There are some folks that love this card (Stark players) and others who hate it (everyone else). My opinion is that it's bad for the game to create a card that devalues an entire other type of card. Especially now that events cost gold, playing them is already harder than it was in First Edition. Do we really need this card to come back as is? It needs to be nerfed, hard. I'd make it a 4 cost, 3 STR, loyal, unique Stark character (so if you kill it, it's dead!) and remove the immunity. I'd also change the text to be, "Increase the cost of the first event played by each opponent each round by 1." This gives the card some value without being completely oppressive.
The Withering Cold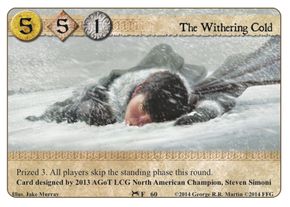 This plot was extremely powerful in First Edition, but unless played skillfully, it could lead to a loss for its controller. "Prized 3" means that any opponent would claim 3 power when the plot was placed in the used pile. This plot could be reissued with its current stats plus a 5 reserve to compensate for its strong effect. The Prized mechanic could be replaced with, "When Revealed: Each opponent claims 3 power. All players skip the standing phase this round." Having the opponents claim power when the plot is revealed rather than when it moves to the used pile is a double-edged sword; on the one hand it puts power on their house card to you to steal, but on the other, 3 power is a big step towards victory, which could lead to your opponent beating you to 15.
What do you think? How would you update these champ cards? Let us know which ones you're looking forward to returning in the comments!