by Lauren Fitch
Champ Cards: What's To Come?
Welcome to this week's installment of The White Harbor Times! In this article, I'll be discussing champ cards – hat have we seen so far, and what could possibly be to come.
If you're a new player, you might be wondering, "What exactly is a champ card?" Well, in the past, FFG has awarded to World champions and other high-level tournament winners the chance to design a new card for A Game of Thrones. Some of these cards (Bandit Lord and Flea Bottom, among others) were released during the CCG and were later re-released for the LCG. FFG has previously stated they intend to re-release all of the champ cards for Second Edition. However, given the rules changes between the first and second editions of the game, some of these cards may need major revisions before being released. If you'd like to view the full list of champ cards, you can do so here: https://en.wikipedia.org/wiki/A_Game_of_Thrones_(card_game).
Already Released or Spoiled:
Newly Made Lord (Bandit Lord)

Originally released as Bandit Lord in the CCG era, this card was re-released in A Tale of Champions as Newly Made Lord, with the same text. It has recently been spoiled and will appear in The King's Peace, with 4 cost, 4 strength, a power icon, and the same text as a Reaction. Unlike in first edition, Newly Made Lord's ability is now cancelable by Treachery. With this change and the slightly higher cost/ability ratio, NML is a little worse than he was in first edition, but still very playable, particularly in a deck focused on Euron Greyjoy. Newly Made Lord is non-loyal, but probably not a great choice for banners unless you're very concerned about opponents' locations.
The First Snow of Winter


This plot was also released in the CCG and then updated for the LCG. When it was first printed in the CCG, it discarded all characters with printed strength 2 or lower from play; however, this was updated in the LCG to return to hand all characters with printed cost 2 or lower to hand. For Second Edition, the effect has been updated to reflect the game's increased cost curve, and now returns all characters with printed cost 3 or lower to their owner's hand. The effect has also been changed to be a Forced Reaction at the start of the challenges phase. Previously, in First Edition, the effect was a reaction to the first challenge being initiated, which could be avoided if both players did not make any challenges that round. The First Snow of Winter was often played in combination with another plot, Rule By Decree, which forced the player with the most cards in hand to discard down to 4 cards. Reserve could now make First Snow that painful again. This plot has been designated as "Limit 1 per plot deck," which is reasonable given its powerful effect.
The Blackfish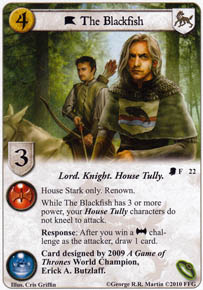 Previously released in the Lords of Winter Stark deluxe expansion, The Blackfish has been updated to reflect Second Edition's higher gold curve, and also now requires 1 additional power before your House Tully characters don't kneel to attack, but the card draw ability remains the same. His previous "House Stark only" affiliation has been translated to loyalty for House Stark. His 4 strength makes him vulnerable to burn, but with attachments like Lady or Ice, he'll be formidable. He's also a Knight, and targeting him Lady's Sansa's Rose would turn all of your Tullys into non-kneeling attackers in one challenge!
The Reader


The Reader was recently re-released in The Road to Winterfell. His strength and gold cost were updated to Second Edition standards, and he was made loyal (as has all card-draw so far). Otherwise, he's identical to his First Edition version, with the notable exception that he now lacks the Ironborn trait.
Minor Revisions:
Flea Bottom
Image not available.
Type: Location
Faction: Neutral
Cost: 0
Game Text:
King's Landing.
No attachments.
Marshalling: Kneel Flea Bottom to lower the cost of the next character you play this phase by 2. That character comes into play knelt.
Card designed by 2004 A Game of Thrones World Champion Greg Atkinson.

Flea Bottom does not inherently conflict with any second edition rules. Having the reduced character enter play knelt is just as much a penalty as it was in first edition. I think we could see this card introduced with identical text, costing 1.
Ghost of High Heart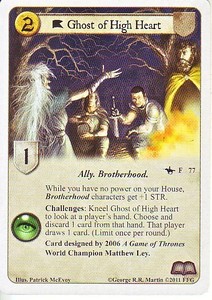 This card interacted with the Brotherhood without Banners agenda, which used Brotherhood characters to keep power off of the house card. These characters would have abilities that were only usable when their controller had no power on his house card. GoHH's Brotherhood-related ability could come back in a relevant cycle. Let's look at her other ability: Challenges: Kneel Ghost of High Heart to look at a player's hand. Choose and discard 1 card from that hand. That player draws 1 card. (Limit once per round.) There is already a similar effect in Seen in Flames, which has been shown to be very powerful. Discarding an opponent's Dracarys! or Put to the Sword makes your challenges math easier, as does imply knowing all the cards in her hand. This ability could come back, with a requirement to kneel one's faction card. GoHH would also have to be updated for second edition's cost curve, probably at 3 cost, 2 strength. You could also use it on yourself to discard an unwanted card and draw a new one. If released, this would be a very popular card!
Den of the Wolf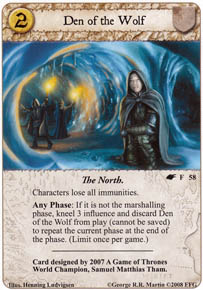 Den of the Wolf was used in some First Edition combo decks to repeat either the Challenges or Dominance Phase with the expressed intent to leverage an icon advantage and to gain some extra power. For example, in Second Edition, you could use it in combination with A Feast for Crows to claim 6 power! Influence is no longer used in Second Edition, so the cost would have to be updated to pay gold. I'd update this card to cost 3 gold to marshal and 3 to trigger, plus kneeling the faction card. We don't currently have many characters with immunities, and that effect isn't necessary for Den of the Wolf's other ability, so I'd probably take out that part of the text to streamline the card.
When I Woke . . .


This card could be updated by converting its influence cost to gold, but it would probably be too powerful in second edition given the higher gold curve. Imagine losing a military challenge and then returning your opponent's Tywin Lannister or Robert Baratheon to the top of her deck! A similar card, The Things I Do for Love, costs X, where X is the card's cost. I would update this event to cost X, and have the text, "Reaction: After you lose a military challenge, choose one participating character strength X or lower and return it to its owner's hand." Targeting bomb characters, then, is expensive. On a Nedly note, the card title and flavor text come from a quote by Stannis Baratheon, "It was a dream. I was in my tent when Renly died, and when I woke my hands were clean." However, the effect is more thematic for Martell, since it involves losing a challenge and removing a character from play.
Former Champion


Former Champion would not require many changes for Second Edition. He could use an extra 1 gold cost and 1 strength, and deadly could be changed to another keyword, perhaps Insight.
Qhorin Halfhand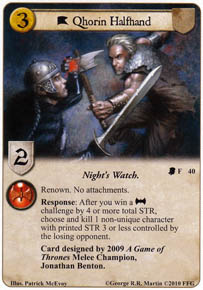 Qhorin Halfhand would, in Second Edition, join The Night's Watch faction, and would therefore no longer be a neutral card. He could remain No Attachments (except Weapon) since that's the case for many NW cards. His cost and strength could be increased by 1, and his Reaction updated to require a win by 5 STR. Otherwise I think this card could remain as-is. Since his own strength would only be 3, he would always require at least 1 other card to trigger his ability. We've seen that Stonesnake is one of the two Night's Watch cards in the Wolves of the North expansion, and I expect that Qhorin Halfhand will be the other.
Arrogant Contender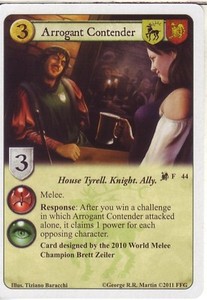 This card was released as dual-house Baratheon/Lannister card with the House Tyrell trait because Tyrell was not available as a main faction in first edition, which makes one change obvious: the card would be House Tyrell. Arrogant Contender contains a keyword, melee, which is not presently in second edition. A character with melee gains +1 strength for each opposing character when participating in a challenge. This ability could simply be written out on the card with no conflicts with the current rules. His other ability frequently led to the opponent not declaring any defenders, rather than power being claimed. I'd keep the ability the same and make him non-loyal, which could lead to a home in Greyjoy-Banner of the Rose decks!
The Laughing Storm


There have been some rumors that FFG would no longer allow cards to be based on "historical" characters, that is, characters like Rhaegar Targaryen, who only exist outside the timeline of the main books. I hope they make an exception for existing champ cards, because The Laughing Storm was a staple of Baratheon decks for years (and was the only card restricted before its release!). The Laughing Storm should become a 5-cost, 4 strength bicon and retain his ability and trait. He would be loyal. Since deadly is no longer a keyword, I'd like to see him gain insight. That way, you have to decide how you want to use him to gain card advantage—by drawing a card or protecting your hand. Since he's not a Lord, he can't easily be stood to use both. If you'd like to learn more about the champ card design process, you can read how Alec Irwin designed The Laughing Storm!
Dark Wings, Dark Words


Based on its text alone, Dark Wings, Dark Words could be released without any changes and would not conflict with any Second Edition rules. However, there are not enough events in the card pool to make running this agenda worthy of its downside yet. This agenda was a favorite of mine (I took it to Top 8 at Worlds 2014) and I'm looking forward to second edition having enough events to make it playable again!
House of Dreams


House of Dreams allows a player to start the game with a location in play, with a reduced setup. I think this agenda could see play now and be very powerful. I would keep the setup hand size the same at 6 as well as change the setup gold to 5, to reflect second edition's higher cost curve and the likelihood that the agenda would be used for a cost 3 location. As a Baratheon player, starting the game with The Red Keep in play could certainly mitigate losing the discount from Fealty. Imagine running a Night's Watch defense deck where The Wall starts the game in play! It's possible this agenda would require an additional downside to keep it balanced.
Margaery Tyrell


Margaery Tyrell was another dual house card in first edition, since there was no Tyrell faction at the time. Obviously she would be a House Tyrell card now. This card was powerful in both the houses it was played in at the time, complementing Lannister's kneel and shoring up Baratheon's intrigue deficiency. Since we already have a very good Margaery Tyrell card, the champ card would have to be strong to compete with Marge from the Core Set. I'd make a cost 5, strength 4, Lady, Queen, with text: "While Margaery Tyrell is participating in a challenge, she gains +1 STR for each Lady or Queen controlled by an opponent. Reaction: After Margaery Tyrell is knelt as an attacker, choose and kneel a character controlled by the defending player. That character is now participating in this challenge as a defender. (Limit once per phase.)"
A Time for Wolves


Despite this being one of the newest champ cards from 1.0, I believe it will probably come out in the Stark box. Although it was not a Stark-only plot, the ability to put a Direwolf into play is most valuable in Stark. The stats should stay the same at 3 gold, since there is another functional 3 gold if you put the card into play, bringing it on par with Here To Serve. Reserve could be at the standard 6.
Mad King Aerys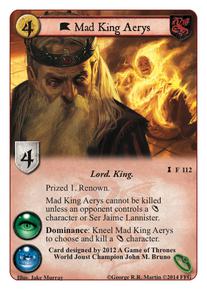 At 4 cost and 4 strength with renown, MKA was a beast in First Edition! Prized was a mechanic that compensated for the high power level of certain cards by awarding a power to its controller's opponents when it was killed or discarded. It's unclear whether that mechanic will be returning in second edition. We also do not have crests, but this could be changed to reference the Lord or Lady traits instead. Let's change him to 6 cost, 5 strength, with the text: "Renown. Mad King Aerys cannot be killed unless an opponent controls a Lord or Lady character or Ser Jaime Lannister. Forced Reaction: When Mad King Aerys is killed or discarded, each opponent gains 1 power for his or her faction. Dominance: Kneel Mad King Aerys to choose and kill a Lord or Lady character." While this effect is strong, as we saw in first edition, using it meant forgoing making challenges with MKA and giving up the possibility of his claiming renown, unless he could be stood.
Theon Greyjoy


This dual-house version of Theon Greyjoy was priced very aggressively and had an ability that could be taken advantage of by both Greyjoy (with its repeatable saves) and Stark (murder murder murder). Instead of repeating the Prized mechanic, he could be made "Cannot be saved" and given an increased cost of 3. I'd keep his strength the same to maintain his vulnerability to burn and other removal. Finally, I'd change his effect to, "Forced Reaction: After a player counts income, he or she must choose and kill a character cost 3 or lower he or she controls."
Desert Raider


3 cost, 2 STR, kneel the faction card for the Reaction, and this guy is ready to go!
The other champ cards need major changes to play nicely with second edition. I'll be reviewing those in the next installment of The White Harbor Times. What do you think about these cards? Let me know in the comments!